Today I want to start with a little story happening to me last week. 
In the latest discussion I had with a colleague I was asked, why am I doing this course? Your Manager or team leader should be aware of and make sure that a team is working on a good level with each other and not leave this responsibility on me. 
I asked what is this person's exact understanding of EI, and I started to explain my learnings and insights and why we all have our responsibilities when it comes to ourselves and our Emotional Intelligence but in the end, this discussion left me thinking. What if, everyone would think the same way as this person does, in the belief system, that everyone else is responsible just not myself. It also made me question myself.
When are your situations you need to be more aware of Emotional Intelligence? I also reminded myself again about my actions I can take and work on myself. Because we all have the responsibility, not for others, at least for ourselves. We all might have difficult times or situations we did not expect, and even more important it is to handle exact these situations wisely. And exactly for this your awareness of your Emotional Intelligence can help you to pass them in a different way.
Since I've been taking this course, I've been learning every week and this knowledge will stay with me for all the years to come. What about you? Are you aware of your Emotional Intelligence? Share your stories with me so we can share the importance of EI together and inspire others too.
Working on these skills and having them in my toolbox, ready to use in every situation is a game-changer for every kind of job or personal relationship and especially being in a leadership position in future. 
" Leadership is not domination. It's the art of persuading people to work toward a common goal." – Daniel Goleman
Leaders in business looking to improve their organisation's performance can do so by improving their emotional intelligence: that is, their skill at identifying, understanding and influencing emotion.
Whenever we interact with those around us or attempt to navigate our own internal feelings, we're using our Emotional Intelligence. Our EI competencies determine the way that we're able to perceive, comprehend, express, think through, and manage our emotions. By investing time and energy into developing these competencies — as explained through the Genos Leadership Model of emotional intelligence – leaders are able to bring more awareness to both their own emotions and the emotional states of those around them. 
Genos wouldn't be Genos if we won't have something to offer especially for people in leadership positions. In our last session, we talked about the difference between Workplace Assessment and Leadership ~ssessment. There are a few differences, even though they look pretty much the same from the outside. It is specifically designed to meet the needs of a person in a leadership position on a day-to-day basis. The Leadership Assessment is the same as the Workplace Assessment based on the Genos Model.
We also had a closer look over the Genos EI Leadership Model. Let me explain it to you a little more specific so you can see the differences to the Genos Model of EI Competencies I shared with you in my blog before.
This is the Genos Model of Emotional Intelligent Leadership Competencies.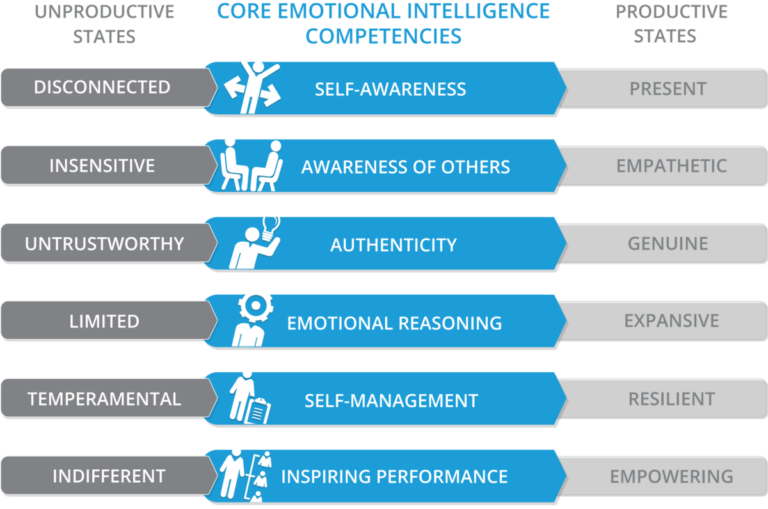 If you take a look at both Genos Model's you might see that there is not a big difference. Some eagle eyes might have noticed that the colour is different but that's not what I am talking about. The main difference lays in the detail and here it is the last competencies of the model.
Inspiring Performance is about facilitating high performance in others through problem-solving, promoting, recognising and supporting others work.
If you want to know more about Genos International Emotional Intelligent Leadership take a look here.
I want to end my report about my Genos journey with the words of Klaus Schwab.
"We need leaders who are emotionally intelligent and able to model and champion co-operative working. They coach rather than command; they'll be driven by empathy, not ego. The digital revolution needs a different more human kind of leadership."
For now, I wish you an amazing week full of insights and inspirations.
See you for my next report about my learnings & takeaways, till then, love what you do.
PS.
One more thing I want to share with you is this opportunity to be part of a free Masterclass with Genos. Learn more about the link between Emotional Intelligence & Psychological Safety. This practical masterclass offers insight into the neuroscience connecting emotional intelligence & psychological safety. Learn how to create a better working environment for yourself, your teams and your organisation. Register now and secure your seat, get yourself insight about EI.