Wednesdays are my favourite days lately, not because Wednesday itself is something special but because I am doing something special on Wednesdays.
Every Wednesday, a group of EI-aware people meet for their next lesson on their way to becoming Emotional Intelligence Practitioners.  
Last week I attended the second day of the program and wow! Even more than before I realized for myself that, I am at the right place at the right time. When I started to read about EI, I felt so familiar with the topic and thought the future needs exactly this, awareness of yourself and others, in professional life and personal.
"I learned that people will forget what you said, people will forget what you did, but people will never forget how you made them feel." – Maya Angelou
Our second session was filled with in-depth information about Genos Assessment and it was so interesting to take a deep dive. We also got interesting insights into the Emotional Intelligence model we are going to work with.
Emotional Intelligence involves a set of skills that help us perceive, understand, express, reason with, and manage emotions, both within ourselves and others. We can apply these skills to help us become more conscious of our own and other's feelings and more conscious of the influence emotions are having on our decisions, behaviour, and performance. This helps us minimize the unproductive influence of emotions and maximize their productive qualities.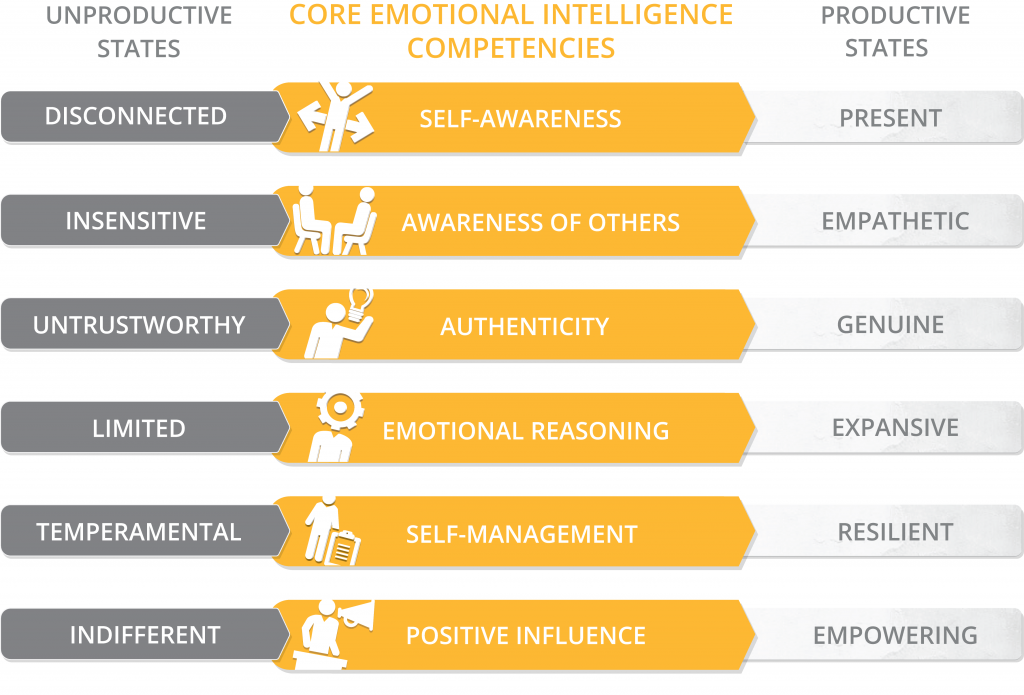 The competencies shown in yellow on the model above, help us consistently demonstrate the productive being states on the right side of the model, as opposed to the unproductive being states, that we can all be at times, on the left side of the model.
Now let me explain to you our competencies a little better.
Self-Awareness

is about being aware of the way you feel and the impact feelings can have on decisions, behaviour, and performance.

Awareness of others

is about perceiving, understanding, and acknowledge the way others feel.

Authenticity

is about openly and effectively expressing oneself, honouring commitments, and encouraging this behaviour in others.

Emotional Reasoning

is about using the information in feelings (from oneself and others) and combining it with other facts and information when decision-making.

Self-management

is about managing one's own mood and emotions; time and behaviour; and continuously improving oneself.

Positive influence

is about positively influencing the way others feel through problem-solving, providing feedback, recognizing and supporting others' work.
Are you aware of those competencies above? Reflect on them, look at yourself and try to understand how others see you when you mirror them. 
Lately, I read an article about how Google began a multi-year project to discover how to build the perfect team. It amazes me to realize what Google started back in 2012, has become such an important topic today in 2021. And I feel happy to have taken upon it. 
If you want to dive deeper into that topic, I suggest you read their Project Aristotle. It gives you more knowledge about what makes a great manager and what defines a team. Both articles are definitely worth the read. 
"There exists a whole that is greater than the sum of its parts." -Aristotle
I am looking forward to learning more and take you with me on my journey.
See you next time, until then stay emotionally intelligent and don't forget, love what you do.
Astrid